Well-known member
Steel Soldiers Supporter
All-
I picked thos old girl up from
@timntrucks
today.
Super clean radio, came with the backpack, 2 antennas, (the short "blade" one and the folding 10') and one that looks like the old spout of an old oil can spout (if you're old enough to remember those):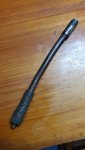 (At least I **think** thats an antenna)..antennas...
Here she is in her glory: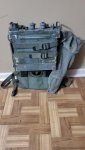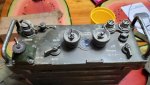 Now, being the good Steel Soldier that I am, I have found some TMs for it and also an instructors manual for a ROTC instructor and am reading it.
Here's my question:
I'm pretty sure the magnesium battery that came with it is kaput (even though it was unopened); does anyone have a link to any of these
a: the battery adapter that holds D cells
B: the battery adapter to connect it to 12-30vdc via a vehicle
C: a battery that fits that is rechargeable
I have a testing procedure once I get a good power source, but I may need help with that too.
Any and all help is greatly appreciated.