Active member
Steel Soldiers Supporter
I have finished modifying my new plastic battery boxes.
When I first got them, I notice that the top of the sides all curled in just like this.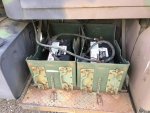 This isn't my truck, but it looked just like this.
I don't like that. So I decided to fix it. This involved using two pieces of sheet metal that came with N.O.S. battery box kits, and two plates of 1/8" steel. The sheet metal parts are supposed to be used when mounting on a deuce and half, and are not used when mounted on a 5 ton... I think.
I first straightened out the sheet metal.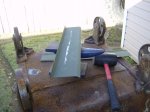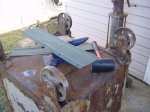 Then painted the sheet metal.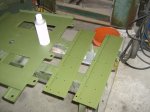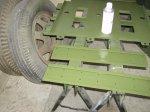 The sheet metal is used to reinforce the inside sides of the boxes. This just keep the inside walls straight.
The outside wall are reinforced with the 1/8" plate. They where first drilled out, the mocked into place with screws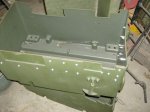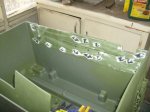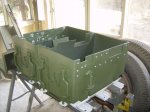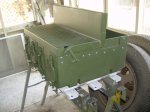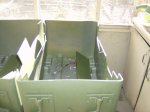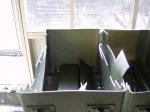 The screws stick out too far to be used, so I'm using 3/16" semi tubular rivets, truss heads. These give the boxes a slimmer clearance than what the screws could offer.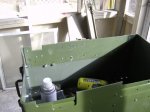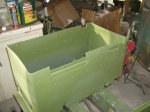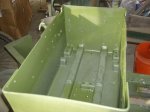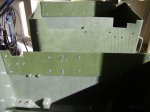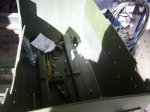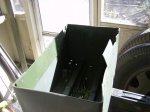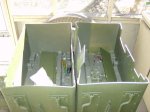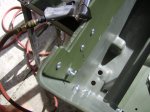 You can see in some of the pictures that I messed up some of the rivets. (They where replaced) This was because I had my air pressure was set too high, and my I.Q. set to low. LOL After that was corrected everything went fine. These rivets are semi tubular 3/16" diameter, 1/2" long. I used a bit for my air hammer made specifically for 3/16" diameter semi tubular rivets. The bit cost $20, and a bag of 100 rivets cost $13. After I was done with the rivets, I hit the boxes with some rapco 383 green.
Last edited: