I've got a set of Hawkers that are not totally "dead" yet. In fact one is holding charge with a sustained drain and appears to be fine.
I have the usual PulseTech solar maintainer, but I ran across this and for the price I have to try it.
Has anyone tinkered with similar (Chinese crap)?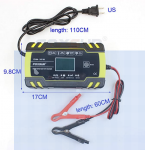 amazon.com/gp/product/B07VNL27X6/
Edit: Changed thread title for clarity
Last edited: