Hope I'm posting this to the correct location.
I'm seeking a TM for the Nordic Air 18,000 BTUH 3 Phase ECU.
2008 model using R-22 refrigerant.
NSN: 4120-01-526-1588
Tech Manual: 567-00001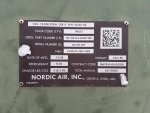 Found a few pdf files when searching online but nothing in the way of maintenance.
Btw, I'm impressed how efficiently these run for cooling. I operate 4 units on an MEP-803A generator. Load registers just under 75%. I've found it's a great way to minimize wet stacking.