Active member
Steel Soldiers Supporter
This is gonna be an ongoing thread as I want to include both the hood and the cab.
My general plan is a thin underlay followed by something thicker.
For the hood, I also plan on doing the firewall, at least with the thinner layer. Then a thicker hood liner
I did a bit of searching on the web and did not find any actual studies where someone compared one brand to the other using any sort of instrumentation , every review I found was based on the reviewer's ear. I decided to go with Dynamat because every review said it was the best. Every review also said it was the most expensive.
I didn't do a starting decibel because I didn't think of it, but even if I did it would be tainted because I've made other sound improvements beyond stock.
So, before any sound insulation I have a D turbo, an 18" Donaldson muffler and my stack is 11' high.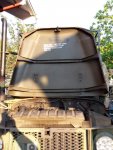 Probably the cleanest the underside of the hood has been since it rolled off the assembly line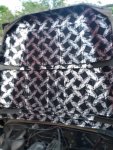 So, I used just under 6 sheets of Dynamat Extreme. Each sheet is 4 sq/ft and .067" thick. I used a good pair of 10" heavy duty scissors and a framing square to make rough cut outs. I also had a rolling tool (they're cheap). I would guess that the under side of the hood is really close to 22 sq/ft. I overlapped a little bit here and there. A bulk box of Dynamat is 36 sq/ft, I'll probably use most of the rest on the firewall.
This stuff is also .45 lbs per sq. ft., so, I added over 10 lbs to the hood and it is noticeably heavier. I will be adding a handle to the hood, not totally necessary, but I just think it's a good idea. The hood liner is about half the weight of the thinner stuff.
I did do a decibel test after the above pic. It's 102 decibels from about 10 feet in front of the engine, and 104 decibels in the cab. I'm using a freeware decibel meter app on my phone, so I can't say how accurate it is, but hopefully it'll at least be consistent. It did
seem
to me that some of the high notes were mellowed out - more deep rumble, which is one thing sound protection is known for.
Next step is the hood liner. I'll try to get to that in the next week.