So I bid on and won a tent at auction labeled only as "extendable modular tent" on govplanet last week. Turns out it's not likely to be military surplus, but thought I'd share it here anyway.
Thought from the size it might be a small DRASH or Base-X but nope, neither of those. Turns out to be from some company I've never heard of.
Label on the cover for the shelter said it was a "First Response Shelter" by TVI Corporation.
Did some research, it appears this line of shelters is primarily use for running decontamination showers and stuff like that. Civilian world applications, not military.
Here is pretty much everything I could find on the internet about it
Got it home and set up, only found one joint assembly broken, but it's in a place that didn't affect setup or teardown fortunately. Only weighs a little over 100 lbs, and packages down to about 2.5 feet cubed.
Set up it's about 11' wide and 13' long. Didn't measure height, but probably between 8 and 9 feet.
The shell material is pretty lightweight compared to the Base-X and DRASH tents, so another indication this wasn't designed to be marketed to the military.
Anyway, I took a couple pictures of it set up (without the floor, though it came with it)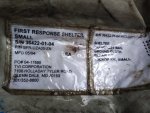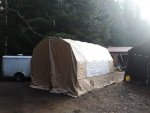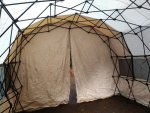 Plus side of being thinner material is I can see light through it. I'm not in combat so don't need a blackout capable tent
Current plan for it is I am adding a stove jack in the center of the roof so I can put a stove in it for heat, and use it for camping. it's annoying that there is only one "snorkel port" per side rather than 2, so I can't just hook my ECU trailer up to it, but I'll resolve that later so I can have air conditioning in the summer.