Well-known member
Steel Soldiers Supporter
I had written a post about this years ago, but Louisiana changed laws, had meetings and changed laws again and the old thread is pretty convoluted, so I'll start fresh.
I bought a 5 ton from a member and we both knew the vehicle had been titled as "ORV" (offroad use only) during the period Louisiana wasn't titling the vehicles.
Here
is a link to the applicable R.S. for printing and carrying in your vehicle to help educate others about the law.
(225) 925-6371 is the number to the Baton Rouge OMV, ask to speak to the special plates Division with any questions.
***NOTE*** Everything is much quicker and smoother if you get an appointment with the Special Plates unit in Baton Rouge. Local OMVs are still confused about our vehicles, while the SPU is up to speed....
To correct ORV titles (the seller will need to do this):
Take the vehicle to the Louisiana State Police and have a statement of physical inspection done. Once the physical inspection is done, take the inspection paperwork and original title to your local DMV and request a title correction and pay your fees and submit the paperwork.
Your title will be mailed to you.
**Note** due to COVID etc, there is a LONG processing time.
To register your correctly titled MV:
1. Get the bill of sale and title or S.F. 97 in order. MAKE SURE the paperwork trail leads back to a title or the government.
2. Insure the vehicle.
3. Take the vehicle to your local State Police office and have a statement of physical inspection done. **NOTE** Make sure the VIN they get matches your paperwork. If they get it off the frame, and the title has the number off the data plate, they won't match and the DMV won't accept it.
4. Mask and stencil your vehicle hood with the first 7 digits of your vin. For instance, my VIN is 2301518. Use yellow or white paint 2" or larger.
5. Mail copies of your Bill of Sale, filled out title the actual title), insurance card, pictures of the vehicle with the stenciling and any fees (I don't know the exact amount) to:
Office of Motor Vehicles
Attn: Special Plates Division
P O Box 64886
Baton Rouge, La, 70896
(I used registered mail so I would know when it was received).
Here's what the seller and I did:
He registered the vehicle in his name and got a corrected title at the same time and I only needed to transfer the registration to my name. That's where I hit a SNAFU.
The registration transfer process still needs to go through the special plates Division. I applied at my local DMV, but they still had to mail it off to Baton Rouge, so if you can take the time to make an appointment and go to BR, by all means do so.
I ended up waiting almost 3 months for my title, and they never did send my registration. If that happens, wait 30 days and go to your local OMV and explain the registration was never sent, and they'll replace it free.
It is a process, but it IS possible.
If you have any questions, feel free to PM me and I'll guide you the best I can.
Attached are pics of registrations etc.
Pic 1: Incorrect ORV registration
: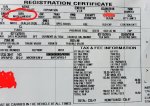 2: Corrected registration: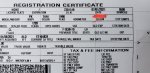 Pictures of stenciling: