Active member
Steel Soldiers Supporter
OK, here are step by step instructions on how to get the Marines to give you information on your truck FOR FREE.
You will need your VIN, hood serial number, and photo of the driver's door inside showing the VIN and serial number.
Go to this URL:
https://www.foiaonline.gov
Then Create an Account

Login

Click on "Submit a request"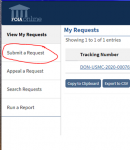 Select the "Department of the Navy" option, then from the first dropdown select "Marine Corps", and from the second dropdown select the command, "Marine Corps Logistics Command".

Leave the request type "FOIA".
The next section will contain all the info from your account. You typed it in when you set up your account so it should all be correct.
Processing fees. I put $200 but you can put whatever you wish. On the request I made they do not charge anything. I would gladly pay $200 if they sent me all their records but they send just some summary things.
Description:
"Hello, I would like the maintenance and deployment records for a USMC vehicle I purchased. It is an Oshkosh MK23, VIN 10TDMWE353S0xxxxx and the Marine serial number is 594xxx."
I put x's in for this example but when you send in the request it should be your actual numbers.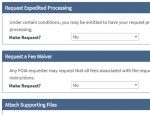 When I submitted my request for my first truck, a lawyer with the USMC sent me an email and said that she wanted clarification of the serial number. She wanted a photo. I think she just wanted to be sure I owned the truck and was not wasting their time. So now, I get a photo of the hood (or inside the driver's door) that shows the serial number and I upload that. The serial number is 6 digits long and start with "59".
Then click "review" and then "submit".
Within a few minutes, you will get a confirmation email from FIOA with a subject like "FOIA Request DON-USMC-2020-00xxxx".
Then just sit back and relax. It will take a couple of weeks. My information came in a 9 by 12 manilla envelope by certified mail.
It will take some detective work on your part to figure it all out when it arrives but HEY it was free.