To me it looks like Aluminum but would like to verify.
The hole is not bad and it's in a corner as you can see in the picture. I was going to pull it but have it up on my lift and now contemplating on trying to weld it without pulling it out. (I've purchased a replacement in case I can't get it fixed.)
I'm not a great welder, I've got a Miller 250 welder with an aluminum gun and just got a Lincoln Tig Welder I've been tinkering with.
The hole is on the bottom directly overhead, looking for ideas of how to best go about tackling this.
If aluminum, I would assume just start around the edge and come in a little at a time to start closing the gap?
(I'm going to try the vinegar trick.)
If this is by chance Magnesium, I suppose I'm to have to tig. Would you attempt to do the same with a stick?
Thanks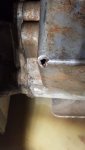 Update: I got some White Distilled Vinegar and splashed it on the case and do not see a reaction so I'm going to assume this is aluminum but would appreciate if anybody could confirm. So with that, question comes to do I use the aluminum spool gun or try to Tig. I've never used the aluminum spool gun. Dabbled with Tig but haven't figured it out that good yet and never anything overhead.
Last edited: