Well-known member
Steel Soldiers Supporter
Its coming up on that time again!!!!! Mark your calendars, save your spending cabbage - GET VACATION TIME SCHEDULED!
Jim Henry of
HENRY'S Truck Sales in Albamarle NC
is once again sponsoring the spring dust off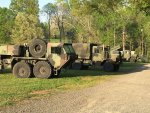 The annual Denton NC Rally, swap meet and general get together is planned for
22-26 APRIL 2020
At the Farmpark in Denton NC.
Hundreds of hookup camping sites available as well as primitive camping available, no reservations necessary!
What will we have?
Helicopter rides (Cobra and Huey)
TONS of things to buy, and plenty of room to sell. You can sell from your camp site or if you want to be in the designated vendor area you must be set up by Friday evening. I will be starting a separate buy-sell thread as we get a little closer
Machine Gun shoot (insurance only allows blanks, but hey belt fed is belt fed, right?)
BBQ Convoy IS BACK ! Friday evening. Cost will be $10 per person to cover catering and you must be in or on a military vehicle to participate-
A separate thread will be started closer to the time.
For those that have been on this before you know the excellent support from our local LEO's really make it happen.
There will be countless other things to do-drive trucks you never have, see stuff you never have and lots of just plain old hanging out time etc
Look at the official buy/sell thread to find some great deals ahead of time!
CAN NOT WAIT !!!!!!