Well-known member
Steel Soldiers Supporter
The wiring harness that goes into my doors, for the clearance marker light, had these little curved plastic tubes on them. Well, one door did, the other was gone. And then the other one got broken... uh oh. So I decided to try 3D printing a replacement. The originals are put on the wires before the connectors are put on, so you can't get them off (without Dremelling up the seam to split it off). These new ones are made in two parts, and can be put on without taking off the connectors.
Listed in the -24P manual as: PAOZZ 19207 12420515 .SEAL,NONMETALLIC,SP
This is just the first version, but I'll make some changes and print another.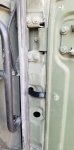 Last edited: