I am rebuilding my USMC M1008 that I purchased a few years ago. It has enough paperwork with it to prove it started life in the US Army and was stolen by Marines during Desert Shield/Storm in Saudi Arabia. It was shipped back to the states by 1st Marine Division and then assigned to 7th Marine Regiment from 1991 through 1995 when it was auctioned off to the public.
I going from the frame up. I have a 6.5 Turbo Diesel and 4L80E out of a 2006 up armored HMMWV with only 3018 miles on it. All accessories intact. I'm keeping it 24 volt.
Here is a picture from when I picked it up in the spring of 2013.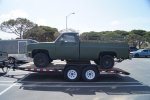 Here is a pic from when I was driving it.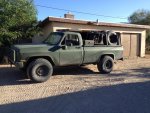 And if you ever wondered what a CUCV frame looked like if it was completely dismantled here it is today.