Well-known member
Steel Soldiers Supporter
My 93 M998 has the original (A-0) front seats, I have a set of A1 seats and all the necessary components for the commander side.
I also picked up a drivers seat base from AMG.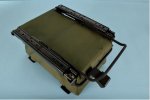 The footprint looks to be much different than the original and the parts TM does not seem to be any help, does this simply bolt down to the floor?
Seems like it could tear loose fairly easy.