Hi,
I picked up in April a 2009 6.5TD M1165A1 with about 7,000 miles on it (I am very excited about it and feel it is a retired hero who needs to be taking good care of) from GovPlanet and I have been battling a starting issue for a while. It has a hard time starting and it eventually starts after trying 2-3 times and I can drive it around as long as I keep the RPMs around 1,000 using the throttle lock, which could be related to the fact that the car it has been sitting around for the past 10 years, last time it had it's oil changed was in 2012, as it was marked on the filter.
Somebody local helped to change the engine oil/ filter, transmission oil, transfer case oil and flush the coolant system. I replaced the batteries with two new Group 65 AGMs with 775A CCAs.
There is still a slow leak coming from the fuel pump and/ or adjacent hoses which need to be fixed. I also put about 8oz of Hot Shot's Diesel Extreme in the gas tank thinking that maybe the injectors may be sticky or have residue/ contaminants after sitting for 10+ years and the engine does sound better and the throttle feels more responsive (maybe it's subjective) but it didn't help with the hard starting or once in a while stalling at normal idling and up and down RPMs changing on its own.
Here are the symptoms in more detail:
1. The engine idles and sounds good (video attached - tried to attach it but the site doesn't supports video files?), but at times it sound like it tries to stall, RPMs drop briefly and the car vibrates - something intermittent in the fuel system?
2. There is no smoke coming out, white or black
3. There is no blow-by
4. In order to keep it from stalling, when idling, I have to use the throttle lock set around 1,000RPM and sometimes it ramps to 1,500 by itself while idling then comes back down to 1,000 - again, maybe something with the fuel system?
5. Sometimes when it starts and I press the gas to get the RPMs up, then I begin to reduce the gas/ RPMs, the engine doesn't respond to the gas pedal and it
stops, even as I keep pressing it while it is still running to keep it going, but then I restart it and it runs - something in the fuel system?
6. Sometimes (noticed it 2-3 times) when the engine starts, the alternator doesn't engage (I believe that's also when the RPM meter stays at zero even as the
engine is running - I have it on video how the RPM meter drops to zero and comes back up while the engine was running without any significant changes in
the RPMs - the serpentine belt is running, but the alternator is not rotating at that moment and I can spin it by hand clockwise, but not counter-clockwise
(this is a separate issue I believe, but I list all these details as it may provide some additional info about what's going on).
Today I tried to replace the fuel filter and found that the top harness is not connected anywhere, please see attached pictures. I cannot find where it would normally plug in as there are no open connectors, however there is a cut wire coming from a harness down below, is that where it would go? Could this be cause for the difficult starting?
Please let me know if you have any questions or ideas of what to try?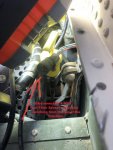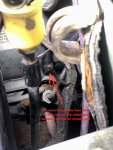 Thanks so much!
Last edited: