NO!
I knew
the lever won't disengage under load
, however I didn't realize
the weight of the cable alone is enough to prohibit disengaging
!
I'd finished cleaning and lubing the cable and was winding it neatly. I'd stopped several times without problem, however at the last 2 feet or so the lever would not disengage.
It gobbled the last 2 feet in a blink and then started binding. I dashed to the cab and hit the clutch before any serious damage.
The cable wound up extremely tight digging into itself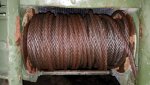 The clevis end bound between the guard and the gearbox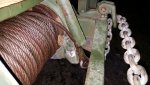 And the chain pulled tightly between the two links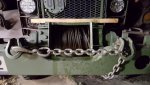 Though I was aware enough of the risk to keep myself out of the moving parts, I was dumb enough to try it anyway. Worst (or best) of all I had my 13yo son there and had been giving profuse "safety lessons" the whole time :/ He was not near the winch but hearing the grinding and seeing me running to the cab shook him...as it should have.
We had a good "even dads screw up" talk and post-mortem afterwards and we're thankful no-one was hurt and only minor damage.
Posting this as a "don't risk it" for others who are searching for shortcuts in the future.