Well-known member
Steel Soldiers Supporter
I noticed last weekend that embedded YouTube videos were not appearing on my screen. As shown in the picture below, all I see is a blank area where the video should be. This happens when viewing the site on my iPhone using the Safari app. I am viewing the desktop version (or "full site") as opposed to a version that has been optimized for a mobile device.
After noticing the issue on my phone, I checked my desktop computer. The embedded videos display correctly on my computer.
Here is a screenshot from my phone showing the blank area where an embedded video should be: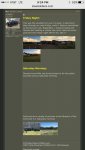 Here is a picture of my computer screen showing the same post with the embedded video displaying correctly.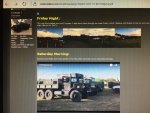 I would appreciate any thoughts and insight. How can I correct this issue on my phone?