So, I sort-of impulse-bought a Ferret today.
I'd had ferret crushes before, but a few years back when I thought I had the time and money to commit to armor I convinced myself that *everybody* had a ferret and I should get something a little more impressive. That's how I ended up with two CVR(T). Thing is, they were bigger projects than I'd anticipated and life changed a lot from when I bought them till when they arrived. I'm still suspicious I'll get them running some day, but at this rate it will be another few years. Anyway, point is I knew a bit about ferrets and had wanted one and my long term project has me wanting to drive something sooner than five years, so when I saw a pretty complete one for sale just an hour away from me, well, what would you do?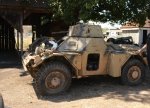 I have two immediate issues I'd really appreciate help with (three if you count poor impulse control):
The first is operational, this was part of a estate cleanup and it seems the PO removed the gearshift and the cleanup crew accidentally threw it away! So, looking for a gearshift mechanism without it costing me a fortune. Also it would be nice to know how to put it into neutral without the feedback of the selector so I can roll it safely. The cable is there and the arm in the side of the gearbox moves freely enough.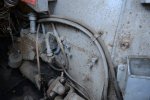 Second is identification. The glacis has some letters on it which may or may not mean anything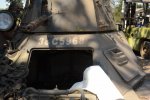 There is also a welded-on hull tag, sadly the expected cast-aluminum plate is absent so I'll need to come up with a blank or something at some point.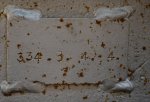 Anyway, I'd love to know anything about this particular vehicle.
I don't see any evidence of a brake servo.
Overall, the vehicle is a odd mix of missing bits and very complete. It hasn't moved in a decade or more. I guess the previous owner had dementia for at least five years and during that time was prone to take stuff apart and scatter it around so I'm guessing the cleanout crew tossed a lot of good bits not knowing what they had, including but not limited to the radio gear. Anyway, I got what felt like a fair price for it's condition so can't complain too much. There is still coolant in the radiator, some air in some tires, and the brake pedal feels about like one would expect of it were working. Hard but with some give. The motor turns freely by hand, so overall I have some hope.
I did notice a very faded and rotted MVCC pennant in the random bits scattered around, so it might have been to a meet in happier days.
I really am pretty tempted to remove the turret, owning a CVR(T)Scorpion I don't have too much turret envy and having it open would make it a better grocery-getter. If I find it was originally a Mk2 of some sort then I'll likely just set it on a shelf against the day it makes more sense to have it.