So this morning I planned on draining my geared hubs and inspecting the locking spindle nuts. Got to the first one and the plug was already a little rounded off inside so I knew I was in for a good time. I got the torch out and heated up the plug, gave it a few taps with the hammer then tried removing it. I quickly finished rounding out the plug with little force, the metal seems very soft.
Next I got the extractor set out, drilled the plug, let it drain, tapped the extractor in, heated things up again then gave it twist. Still wasn't budging. Against my better judgement I gave it more force and the extractor snapped off inside the plug. There was a small piece of the extractor sticking out the bottom of the plug, so after about 20 minutes of tapping with a punch and hammer I was able to extract the broken extractor. I think maybe I didn't have the extractor in far enough? Either way it seems pretty weak and broke with little force.
What is my next step here? I feel like I got lucky getting the extractor out once, I'm very hesitant to try using an extractor again and it getting stuck for real this time.
Here are some pics of the fun.
Broken extractor: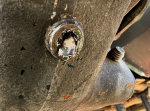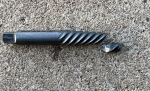 and my current status: