Active member
Steel Soldiers Supporter
So, I'm looking at "no-idle" hvac units and they cost a fortune, easily double the cost of non-idle - thousands of $!
The reason I want no idle is I want to eventually turn this into a camper and idling these trucks is insane.
If I could figure out a way to delete this post I would.
I'm currently looking at marine models that can hook up to electrical and duct the air. The idea being that I can mount in the bed and duct the air into the cab and eventual camper. The units are pretty boxy but look like they might do the trick.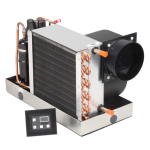 Last edited: