I want to start by saying thank you to all of you that helped me realize that I was wrong to think I should not buy a truck because it did not have a turbo.
The truck I purchased is a 72 AM General
M35a2 with winch
The drive home took about 3:45 with no problems so I am happy for that. I was on main highways and tried not to push the truck to hard and ran about 50-52 mph and did not push it past about 56 mph at the fastest. I am happy to have purchased this truck and hope to have lots of fun with it.
There a few things I noticed that I need to address on the way home. The brakes work well but definitely need adjustment because the left front seems to grab slightly more than the rest. There is a clunk in the steering that needs diagnosed. It lost some power along the way and the fuel tank has Some crud in it so I need to clean that up and replace the fuel filters. I am at this point confident that the los of power is from the filters getting clogged from the crud in the tank. I need to do something with the spring seat because it is not enjoyable when it bottoms out. First gear is tight and it makes the 1-2 shift tricky but it starts out in second gear without problem.
Things I plan on doing as preventative maintenance would include replacing all filters, greasing all the fittings, hub service all the way around, replace all wheel cylinders ( then rebuild the old ones and put them on the shelf for future use), adjust all the brakes, and replace all the fluids.
The tool kit, bows, and bed cover were not included With the truck so hopefully I can obtain those things here after I get all of the maintenance taken care of.
here are some pictures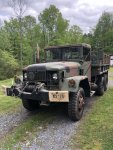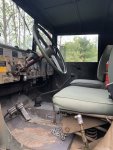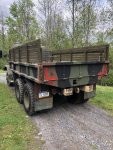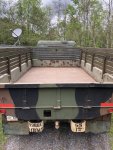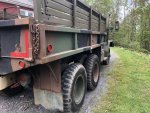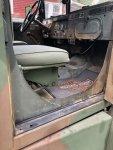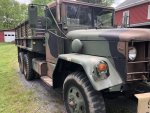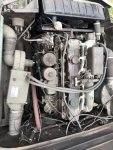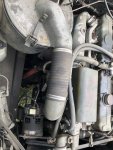 Please excuse my ignorance but I am assuming this solar panel is to charge the batteries can someone please confirm or correct me on that.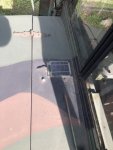 Over all I am happy with the truck because all of the other ones I have been around locally were really rusty and seemed much more worn. I feel like I will have a really solid truck with some elbow grease and some new parts. In my area you can not buy a decent pickup truck for what I paid for this and it is way more fun to drive. I took the wife out for a ride after dinner to get some fuel and some more seat time. Almost every person that was out in there yard waved and people were stopping me at the gas station to talk about the truck. This thing attracts lots of attention and seems to put a smile on almost every face that sees it.