Active member
Steel Soldiers Supporter
Happened to come across one of these - came in a "box o' tools" I bought a few years ago, never needed it until recently when I changed out my generator, PS pump, belts, etc.
Using one of the little "klickit" devices is awkward, hard to read, so I remembered this gadget and pulled it outta the box: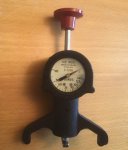 basically reads zero. No reading at all.
So before I start disassembling and figuring out if this CAN be recalibrated, or just turn it into a relic paperweight, I thought I'd run it by the usual suspects and see if anyone has a manual or other direct experience with it.
BTW: tried multiple ways to FIND "Kent-Moore Organization" and it all leads back to SPX or a reseller (whose 800 number is dead).
Yeah, I could just buy a new tool, like the J-23600-B, but hey, I'm driving a 25 year old FMV for a hobby, I like old stuff.
Thanks.
Last edited: