12B20
Steel Soldiers Supporter
29 AUG 2015, 0738.
Imagine you are just on a routine drive on a Saturday morning. You are traveling a two lane state highway along the Ohio River and you look out your window and see this: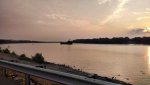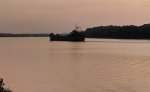 After a quick second of What the ?!?, I remembered that Gimpy had told me that 54reo (Brian) had told him that the LST 325 would be visiting Cincinnati this year. Sure enough, there it is, chugging it's way up river.
Here is the Schedule from the official LST 325 website.

Here are other links for more info.
The official LST 325 website:
http://lstmemorial.org/
Wikipedia:
https://en.wikipedia.org/wiki/USS_LST-325
Steel Soldier thread from 2011:
http://www.steelsoldiers.com/showthread.php?67376-2011-LST-325-River-Tour