Active member
Steel Soldiers Supporter
What the heck happened here?
Six hands and a leg to hold everything, get it all back together before I noticed that the shoes I bought eight months ago are much narrower than the ones I took off.
I bought them on Rock Auto and these were the ones they selected.
What do I need exactly?
New one installed, old one rested next to it for comparison.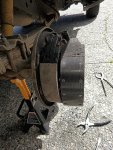 Last edited: