Active member
Steel Soldiers Supporter
One thing I have noticed is that just about every one likes the IR driving lights, despite there is no real use for them. At least for me. LOL If a clear lens/non filtered lens can be had, then it can be used as an auxiliary light. The other problem is where to mount them. I have seen some creative ways and methods, some clean and nice, others... zip ties and duct tape. I have been going over my parts collection and have found a way to mount one under the passengers side headlight, in a similar way to the black out light on the drivers side. I don't know if this has been done before, but I will make it happen somehow.
Starting with an IR light, and a blackout light bracket. I had to grab and pull on the bracket to make it wide enough to fit the IR light in it. It was a little tight a first, now it has some room.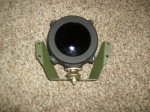 I have a N.O.S. headlight panel, (mine is bent and warped, hit a tree, I think)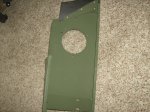 Here is where I want to mount the light from the inside, I'm using a 6" Bi-metal hole saw I found for $14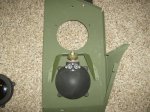 Here is what I want the finished outcome to look like, more or less.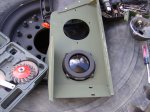 Just a side view for reference.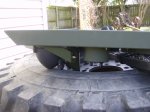 The new head light bucket, just to make a better perspective of it. Just incase anyone is wondering, the head light bucket came with the panel.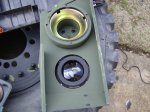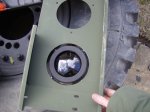 I'll have to make the rounded cut outs for the 4 ears on the IR light. When I do that, I'll center the light and drill the holes for mounting my bracket.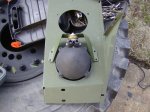 I have made some measurements, and this location will leave the IR light clear of the grill. Meaning it will not have any obstruction in front of it. I will have to make an alteration to the fender to clearance the IR light. I figure I can use 4" hole saw to do so, then rivet in a metal dish is the hole. I haven't gotten that far along yet, but that's what I'm thinking of right now. I'm also thinking of painting the front/inside of the panel and bucket flat black (911 black) as apposed to leaving it green. The exterior would still be green.