In memorial Ron - 73M819
Steel Soldiers Supporter
Yep, last time I was there in September 2018. They are liquidating rapidly though. A lot of trucks are out.
situation according g
oogle maps from the last years
, a horrible clean, neat, and empty space.
Compare this, below, with the situation from an early image from a decade or more ago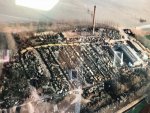 Especially have a look at the old image for the mess in front of the chimney stack. Now, that is completely empty, as you can see below.