Well-known member
Steel Soldiers Supporter
I'm new to Military Vehicles, but I've always wanted a Humvee since I first saw them in the 90's. (My ex was in the Army Reserves, she drove a regular M998 and Ambulance model.)
Finally got a chance to buy a titled, street legal one and jumped on it. Hopefully with her help, the motor pool guys she used to hang around with -- we can go over this one, fix anything wrong with it and keep it maintained.
My goal is occasional trips to Menards for building materials, but mostly parades and off-roading in pastures.
Looking forward to the challenges in maintaining this, and the fun of driving it.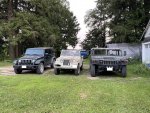 Edit: Added picture of my 7-slot grill collection...