With summer being here, I am diving into the task of adding AC to my m1028.
The AC kits around that replace the entire air box and come with all the controls, ducting, vents, lines, and condenser look to be a turn-key option for not a ton of money (currently looking at the classicautoair kit). Only problem is none of those AC kit companies make a plug-n-play compressor and bracket solution for the 6.2 diesel.
So, What is the cheapest way to slap a AC compressor on this engine?
I have a 4bd1t sitting in the garage, so this 6.2 will be eventually taken out, which is why I don't want to spend too much on the engine side of the AC conversion. But the engine swap is probably 3 years out, and I would like to be comfortable while driving for the next 3 summers.
I have a 12v converted 6.2, and the drivers alternator is gone. Can this mount be reused for a compressor? What compressor and other bracketry would be needed if possible?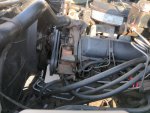 I should also preface with I have basically zero access to junk yard 6.2/6.5 diesels. Idk why but in the 3 years of monitoring the local junk yards, I have never seen those diesels come through. Plenty of small block 70s-80s chevy/gmc's but no diesels.
If the drivers alt mount can't be used, do I have to tear all the front end components off, and get a full pulley/bracket kit for a humvee or civi truck? Or can I just use a 4/5 groove crank pulley and mount some compressor under the passenger alternator?
Last edited: