I have been working on an OT 65 G FUG. and want to put it up for the steel soldiers vehicle of the month.
Recently I have replaced the head light bulbs, the side light bulbs. I also have replaced the rear left tail light as The rear tail light assembly was broken when the OT. was delivered. I also got the roof top warning light working.
I figured out what switches do what on the dash board. Like the lights, the inside lights.The headlights, and interior lights. Plus now we are in the process of fitting high intensity blue led's in the side light slots.
In the near future we will be getting the driver and commander position radios and intercoms working with The original Russian tank head gear with built in microphones and headsets, Fortunately whilst searching all the lockers and bins I came across them, as well as a full set of driver handbooks, and the workshop manuals and parts lists. (in..... RUSSIAN!)
For those who are not familiar with the vehicle it is a Russian amphibious forward reconnaissance command vehicle. It has a 5+ litre diesel engine, it has 4 retractable wheels, which are lowered for crossing rough cross country obstacles.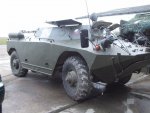 Last edited: