Well-known member
Steel Soldiers Supporter
I spent a ridiculous amount of time searching out fittings and hoses that looked factory for the radiator surge tank. I was trying to find that magic fitting that would give me a 90° swivel with an 3/8" NPT male or 1/4" NPT male and fit a 3/16" or 5/16" hose. I couldn't find such a fitting that had a matching 45° SAE inverted flare fitting in the same fitting family/series and also from a manufacturer that made textile braided hose for those fittings. I found a close match for fittings from Goodyear / Continental and after some more searching I was able to track down some textile braided mil-spec hose also made by Continental to match the fittings!
This hose, which is listed as medium pressure hydraulic hose, was hard to get and Deidra (pronounced Dee-dra) is the lady to talk to at Industrial Hose & Hydraulics Inc. out of Pompano Beach, Florida. She had to work all sorts of angles to get me the small qty I needed but she's the best and I got my hose sent from Florida up here to Washington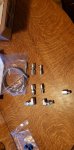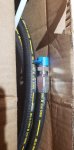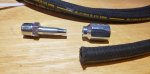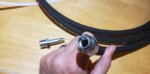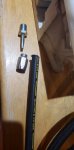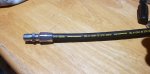 So far, I've only attached these field-serviceable fittings on the surge tank side and I will trim down the hose to size before attaching the water manifold and radiator ends.
From the surge tank the big hose will consist of Eaton 2252-6-6S 3/8" NPT 90° swivel male to 3/8" NPT female -> straight Goodyear FG-NPM-06-06 3/8" NPT male -> Continental MIL-H-13444-III-6 5/16" mildew resistant, textile braided, medium pressure hydraulic hose -> Goodyear FG-SFFX-0606 SAE 45° inverted flare straight swivel. The smaller 3/16" hose will be the same except with the number 4 in place of 6 in the part numbers.
Update: I now have the surge tank hoses cut to length and the straight swivel SAE 45° inverted flare fittings have been installed.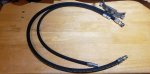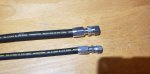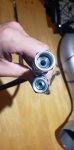 Last edited: