Well-known member
Steel Soldiers Supporter
To change the direction of the tank's outlet pipe i sourced a 1 1/4" mandrel bent 90° stainless elbow with rolled beads from a fuel filler neck company and then shortened one leg to allow it to fit between the tank pipe and the engine block.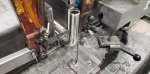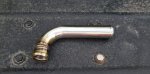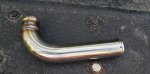 The TIG guy said that "walking the cup" was especially difficult on this because the polished stainless was so slippery.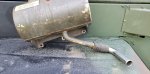 Now I just need to find a heavy-duty yet flexible radiator hose to connect this elbow to the oil cooler? housing.
Last edited: