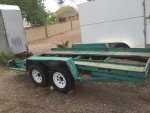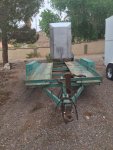 I'm looking for a trailer to buy for my M998 pick up at Yermo. I have a Ram 2500 W/6.7 Cummins. This trailer should be able to do the trick it is a 14x8. I doub't my truck would have any issues pulling the trailer with the M998.
Question is;
What Nomenclature is this trailer?
What do you think a fair market value would be. It is titled in Nevada.
Will a M998 fit? Looks like it will but wanted to ask
Thank you for your help and support.