Hi All! I am the proud owner of an M35A2! Its titled as a '65 AM General but sounds like its really a '69 Jeep Kaiser . Regardless its got a good vin and is titled...AND IS ON THE ROAD! Bought it from a great guy in Indiana and had it shipped out here. Glad the driver didnt get stopped cause it was for sure overweight on a tandem axle gooseneck.
It came with all sorts of extra parts, about 2 feet of paperwork (including some print outs of this forum!), and a complete winch setup.
At any rate I have plowed through the TM's, added the remote brake fluid reservoir, emailing with Jatonka on some parts, accumulating enough liquid for a full fluids change, and driving it whenever I can. Took it to work today 25 miles each way and I cant stop grinning anytime I drive it.
At any rate looking forward to posting more and learning a ton. Thanks everyone!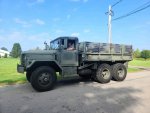 Last edited: