Well-known member
Steel Soldiers Supporter
Yep, I know, I get it. And I hate to be that guy. But, everything goes back to where it came from. Everything.
Without guys like you we wouldn't have any farm fields left to sow. Imagine the mess the rest of us would have if not for practical end of use decisions. Thanks for doing it. My brother is the other guy that collects and piles and his wife's Dad was even worse.
It seems that the in-law was broadsided while driving his Chrysler 300. It was a big car and it saved his life. Well.....he thought he'd return the favor and save every Chrysler he could afford. There's over 300 of them in the field just sinking in.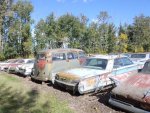 Dual circuit on that P-4 brake system. She ships at 31,735lbs and gets gross at 46,600lbs so dual brakes are handy.......especially when shes's rolling out the door of the Hercules.