I was crawling around under my truck and noticed a nice shiny metal linkage sticking out of the rear of the transmission cover. It is item #16 in this picture: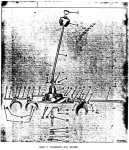 It is designated as the following in TM 9-2520-346-34P:
2520-00-752-1097 7521097 19207 SHAFT,STRAIGHT:REVERSE GEAR SHIFTER
It looks like this is an unused linkage for some kind of add-on item that is actuated when in reverse gear. Anyone know if it was used on our trucks, or was a generic option added just because?