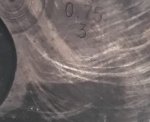 any piston have also this verification and measurement of the bores said the same
it was already clear to me that a repair would take place here at some point. But I found no evidence, except the measurement, until my wife saw this painted sign. In mechanical engineering (my job) it is common to verify this on the component. Since I couldn't find anything, I was a little confused. I couldn't believe that this shouldn't be the case in the US.
However, this also means that further drilling is no longer possible here. Should the specialist find out that it is too "worn out" then this means the use of sockets.
So still not the end of the project. It only makes it more expensive. With an engine like this, however, the standards are set differently than with a high-performance racing engine of course within the manufacturer's tolerances.
My own mid-range tolerance reading says it's ok, but I'd like an expert opinion before going any further. The same applies to the pistons, are they still good enough or already used up to the point where it makes sense to replace them. The piston rings are coming already news.
Last edited: