If you are going the 6.5 route, why not add a turbo? Having driven both NA and with turbo, I can tell you it will drive much better.
I definitely want to avoid the heat problem .... so i go the route of 6500 optimizer
I have a secret idea where this overheating could have happened: every emissioncontrol was very difficult. Usually the engine run a long time on the test stand to got a value. That means almost always up to the governed speed when the vehicle is stationary. My wife always went away, she could never listen to this torture. I have not found a test bench that managed to do this without tricks to achieve the German values. As a rule, it worked best when a spacer was used under the accelerator pedal, which gave an even accelerator pedal pressure shortly before the governed speed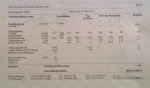 I am always quite comfortable on the road because the background noise is almost damaging to hearing as the speed increases. The ruts following is not so pleasant either dependent of course of the tires. We use all-terrain-tires. Our cruise speed is usually 90 km/h / 55 Meilen.
I need the power for trailer
Why not a turbo?
I am not sure that the old transmission THM400, the NP208 will handle that extrapower at least i have read by AM that the exchange from the J-Motor to 6,5 only take the NA not the Turbo Version.