Well-known member
Steel Soldiers Supporter
How to remove, replace the door and how to rehab interiors (glass, window channels, locks etc.):

http://www.jatonkam35s.com/DeuceTechnicalManuals/TM9-2320-361-24-2.pdf (TM 9-2320-361-24-2)
Swapping the door was straightforward. The problem was that the door, new hinges and all, did not sit right. The window frame hit the weatherstripping of the cab cover, was not squared up and the door would not latch properly either.
The TM is of ZERO help and does not address this particular problem.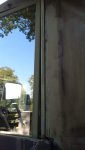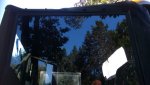 If you have ever installed a cabinet door, you know what needs to happen...the lower hinge needs to be pushed towards the rear of the truck to lift the rear edge of the door up.
Thanks to the input from Floridianson, rustystud and others here is what worked:
1) the steel plates where the hinge bolts screw into actually move left-right (transverse plane to the length of the truck) to adjust the upper and lower edge of the door in and out.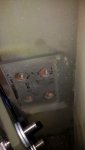 In the picture you can see the steel plate with the threaded holes sitting behind the cab sheet metal. This plate can be rusted into place. Put a couple of bolts in and hit the bolt heads with a hammer until the plate moves. Adjusting this plate is possible with the hinge and door installed, all the hinge bolts in, but loosened.
2) In the picture you also see how I accomplished pushing the hinge "backwards" so that the rear of the door rises up.
Two stainless or galvanized washers over the new stainless hex bolts. I recommend you do NOT re-use the NOS Philips head soft bolts. There is sufficient clearance on the door side to accommodate the hex heads and a lock washer.
3) The door, with the window down, finally sat right and closes (firmly) but it closes. However, the window frame was still crooked (but properly adjusted inside the door, check as per TM!). What else could be out of whack? The WINDSHIELD!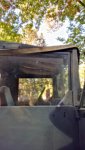 4) Loosen the windshield locking screws on the outside, run a wide cargo winch strap around the top of the windshield,
attach it in on the front of the bed and gently suck that windshield back. Keep the tension, lock the screws. You are pressing the windshield frame onto the cab seal, so no leak issue results from that.
BINGO!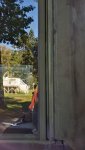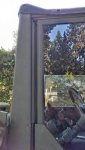 MISSION ACCOMPLISHED!

Door hinge pins:
Use 1/4-20 stainless steel flat head hex bolts, 3 inches (better 3 1/2 inches) long, a self locking nut and two stainless steel washers. You can drill out the hole to 5/16 and use thicker bolts and you can also drill the middle hinge clasp and install a grease zerk.