Please see attached photos of adapted cylinder to my LMTV 1078 A1.
Original cylinder locked up and would not extend no matter what I did to it.
Went to Tractor Supply and got a County Line Brand, 2 inch bore with 16 inch throw, Tie-rod style cylinder. Had to grind some material off the outside ends to make them fit. The inboard end of the outer radius of the tie rod eye interfered with a weld on the truck. Nipped a little off the end with the grinder to fix that. The .75 inch pins that came with the cylinder fit LMTV tire davit frame holes perfectly. Went to NAPA for 90 degree hydraulic elbows to connect to the new cylinder as the size differed from original install cylinder. . Make sure you get a 90 degree with NPT thread going into the cylinder and compression fitting to satisfy the existing hydraulic hose end. NAPA has them on the shelf so the counterman hooked me up on that.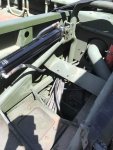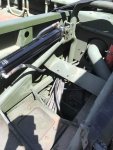 Pictures attached. Works like a charm. 200 bucks all in: Happy Happy.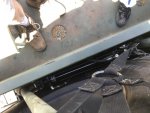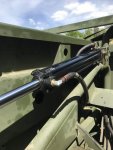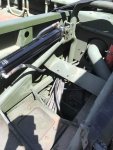 I let the air out of the spare for clearance.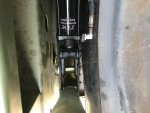 In this way, the fitting would not press too much on it. I suppose if the CTIS system works, then changing a tire results in proper servicing through CTIS actuation. So having a slack spare is not really a risk. I have a manual CTIS system so I know it will be reliable if I need to bring a tire back from the dead.
I used a bushing to fit the elbow on one end. I ground the bushing down so it would thread in flush. I ground the elbow that fit into the bushing so it would make more headroom as well.No leaks so far.
Yes, this all begs the question, why not mount hydraulic elbows on the top, out of the way? The geometry of the cylinder and the tapped pressure ports forced me into this configuration. A pin head style cylinder might have been better; but Tractor Supply was local and let me test fit in the parking lot so we went with wot they had.
Did we reduce strength of the tie rod end fittings by removing material Absolutely. But I think the pressures and angles are still within design capability. In any case, we are sure to not ever stand directly under the tire as it comes down even if we are wearing a hardhat!
Last edited: