So---still no LMTV, BUT that doesn't mean I can't start buying parts... Yes tired of watching our favorite auction site and waiting for Mrs. perfect. So I purchased these early 2000's Suburban seats, all power and heated. I checked the motors and heater this evening and everything fires up.. I am getting a couple of the leather panels replaced due to wear/cracks and replacing some of the foam support. I am also gettinging both armrests recovered in the black leather as well. Dropping them off tomorrow to get them back to newness.... Oh yeah, I forgot to mention I paid $100.00 for the pair so having them fixed up for a few hundred more is no big deal. I chose these because I have an older Suburban and my wife and I love these seats versus the newer Suburban seats that have no arm rest. Also having the seatbelts plumbed in is very convenient...
Once I pull the trigger on the LMTV I will bend up & weld up some brackets.... Now off to find a new steering wheel, Freightliner 18" of course...
Sure would be nice to have an LMTV.....
Dreamer out.......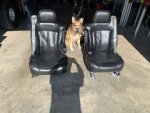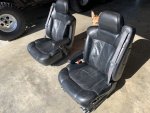 Last edited: