Well-known member
Steel Soldiers Supporter
Rim protector issues
I picked up a set of these rim protectors, cheap. We have a lot of rocks here in Colorado, so I figured, why not? Paper inside the box says it is P/N 57K1996, NSN 2540-01-489-5928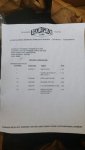 However, they don't seem to line up just right. The install diagram (which is hard to see anyways), shows the valve stem sticking through the large hole. In that position, the CTIS hose has no cutout to fit through. If I rotate the rim protector so that the small hole is over the valve stem, the big hole is over nothing, and the CTIS hose digs in against the edge of the rim protector (surely would wear/cut through the hose).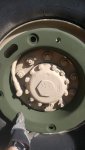 I've been trying to find info on these things in the manuals... I'm not very good at LMTV manual surfing yet.
Any help, ideas, right/wrong part numbers, etc.? I could just enlarge or add a slot so the CTIS hose clears, but I wanted to understand the issue first.
Thanks!