Member
Steel Soldiers Supporter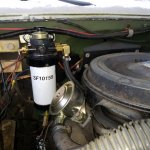 I purchased the fm100 kit from Napa.
Filter/ base # 4913
Primer pump #4921
Settling bowl #4924
5 micron filter #600159
As a warning the filter that comes with the 4913 base from Napa is a 150 micron filter. I was unable to find the base with a 5 micron filter from Napa.
Used some 1in square tubing to space the filter away from the firewall, bolt holes lined up great. If I were to do it again I think I would like to add a pressure gauge fore and aft the filter to gauge how often it needs changed.