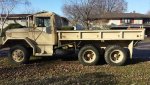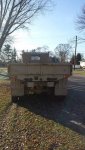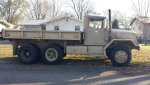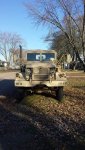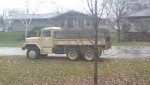 I'm in total overload right now, but this is what I remember......
~ clutch is less than a year old. Paperwork included.
~ truck is titled.
~ front tires are new, and a couple of rear ones are to.
~ truck was OD green, cab and bed were removed once and everything repainted tan (including frame).
~ tool rack (empty).
~ troop seats.
~ cold front.
~ modern wiper blades on stock arms.
~ spin on oil filters.
~ front manual locking hubs
~ after market muffler (HUGE improvement). Still sounds like the whistler, but you can carry a conversation in the cab.
~ soft top (in great shape).
~ new batteries.
~ jerry can (but it's red cause someone put gasoline in it)
Took it to a friend that used to wrench on them at the local army base, and he climbed around on it. Said the dog bolts were sound, everything looks to have been greased and maintained well. The only thing he found was front axle boots looked to be leaking. He said as long as I'm not submerging them, and keeping up on greasing it, it'll be fine for what little driving i'll be doing in the next year or so.
Drove it and the clutch feels good. Parking brake is good. Steering is good. Rolls down the road good for having the NDT's.
Did a quick walk-around and noticed the driver side blinker was out. Anyone have a bulb number off the top of their head? I know I can search it which I will be doing shortly.
Passenger door doesn't like to latch unless you abuse the naughty girl.
Troop seats need to be re-done. New planks and paint will be one of the first things to be done this summer.
Dura-liner in the box.....good Idea or bad idea?
I'm 300lbs. I think it may be time for a treadmill. I fit, but it's a snug one. lol
I hope to paint it again back to OD. However, I want to re-letter and do stars on the doors instead of the wings. Is there anything I should know about doing that?
You'll see in the pics that one of the rear wheels is green and not tan. Apparently, the wheel was put on backwards?? Perhaps painted wrong? The inside is tan, the outside is green. lol No biggie.
With my big ass on the fender, it was making some not-so-good crackly noises. Wasn't sure it would hold me. Any tips to strengthen these?
And heeeeeeeeeeeeeeeerrrrrrrrrrrrrrrreeeeeeeeeeeeeeeee we go!