Howdy,
Going to start another one of my fix-up threads to document what I do to my recently purchased 1998 M1078 LMTV!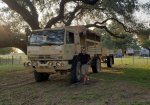 Got it with the trailer for a very good deal. Drove it home with no problems except it being a slug compared to my Super Duty.
Has ~11,500 miles. Overall very clean for what it is. Has a clean Texas title.
Haven't dug in to deep on it yet but have found a few things that need to be repaired. Spent some time today making that metal list while cleaning out the cab & beds.
The tarp is in okay shape. Was left with the rear flap not rolled up properly so it was tattered beyond repair. I cut what was left of the rear flap off & realigned the tarp, rolled the rest of it neatly & tightened it down.
Found a few spare parts in the storage bins along with the operators TM.
My goal this week is to get it insured, inspected, & registered so I can start being that guy in town driving around in an old military truck for no reason.
Will share a video overview of the truck & trailer once I make it.