I completed a blank version of this box which can be seen
here.
Holes can be drilled into the blank to fit whichever switches, buttons, cannon plugs, etc. are desired.
This was a request from a member here. This is a control box for a vehicle smoke grenade launcher. My references are only from pictures on the internet with pretty good orthographic angles. I don't have an actual box to measure from, but I think I got it close enough that once I get a real-life dimension of some part of the box, I can scale the 3D model to proper size. I think the print would be good enough for display on a car show vehicle.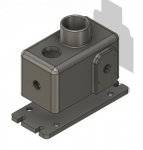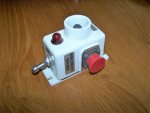 Many of the hole sizes are estimates since I don't know the actual size of the switches, electrical connections, and the arm lamp.
Last edited: