Rear Door Interior Panels
I'm (slowly) continuing to work on my Sugga's interior. For door panels, I'm building my own using 3/16" masonite, and EZ-Cool closed cell insulation underneath M90 Swedish camo fabric from Sweden (my Sugga was painted in this camo pattern when it came from Sweden, before I painted it solid Marine Corps Green). I'm bonding this sandwich together using 3M Super 77 spray adhesive. It works great on these materials.
To attach the panel to the door, I've decided to use strong neodymium magnets I bought in bulk. The magnets have a pre-drilled, countersunk hole, and I attached them to the masonite using ⅛" pop rivets. This arrangement makes the panels easy to attach and easy to remove. I ended up with 7 magnets on each of the rear door panels --- this provides plenty of holding power to keep the panel from sliding around. It's rock solid until you actually want to pull the panel away from the door to remove it.
There are window trim / garnish moldings that cover the window frame and will cover the top of the door panel I made. The inside door pull handle will attach to the garnish piece just above the door panel.
Cheers,
B B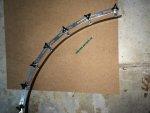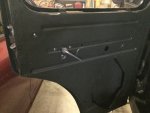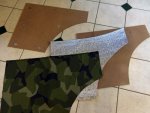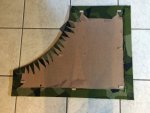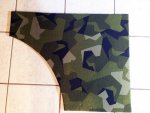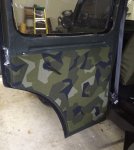 Last edited: