Well-known member
Steel Soldiers Supporter
I have been receiving PM's from a few members about the Fall Rally. Date set for the weekend of Oct. 18-20 when the weather has cooled down a little. For the people that have not been there trust me you will have a good time and those 3 days will always seem too short. Here are the coordinates
https://maps.google.com/maps?q=35.1...114573,-117.131767&spn=0.124693,0.260582&z=12
BBQ and convoy are good eating and fun you never know what you might find.
On are way back from last years convoy we hit some tall branch's and wound up with this guy in the back of my truck. He was so happy to be found he was waving at everybody at camp as we drove in like as if he were prom queen in a parade.
Map going to the Hinkley rd route coming from LA:
https://maps.google.com/maps?saddr=...AIdHC4E-Q;FdOCFgIdC9YD-Q&oq=lo&t=h&mra=pr&z=9
Once you hit the diagonal off Hinkley on the right side will be this sign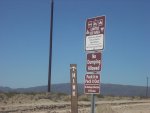 this will be where you turn in. I will place the candy cane marker poles every mile or so on this dirt road and double poles where you would turn in. Click on the photobucket link for a bigger view of the map.
Last edited: