After seeing some ill efects of NOT cleaning the old seam sealer out of the seams I went about cleaning the 38 year old seam sealer from my current M1009.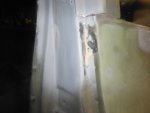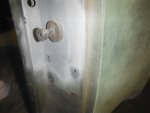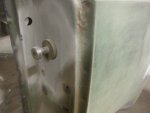 The seam sealer guy on this unit was drunk.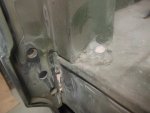 At the rear it was an inch thick in a ball at the rear corner welds. I started grinding it out but was over come by the smoke and dust. I resorted to using a cold chisel.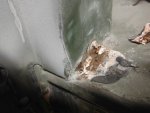 I really don't want to use a wire wheel in fear of getting bare metal in the joint deeper then I can reach with sealer. This is the left rear 1/4 panel and it was severely damaged by the antenna bracket hitting something. I remembered that I needed to fit the tail light again before I do the final finish work before paint.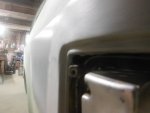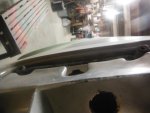 The tail light did not fit so well. I was able to get the taillight fitting in with some tweaking of the mounting area of the 1/4 panel. That was when the whole job went south. I was outside getting a piece for a lawn mower and decided I wanted to play with bees again. It has been hot and dry and the bees love old metal things. I just built that front end of the CUCV less then 10 days ago. Well I had tenants take up residence in the fender area. I wanted 4 clip nuts and went to take them off and got stung again about 4-5 times in the hand. Same hand that was stung on Sunday. That ended my day. I went in and washed and rested for the night. It was 93* in the barn and I was soaked with sweat. But I made headway and that is what is important. I have mild swelling but I can't recall a time getting stung as many times as I have this year. the bees are getting toxic and stings are not as mild as they used to be. Maybe it is my age. But I think they are more aggressive then I remember. but I did reach right into the nest about the size of a half dollar. OH well I will survive. They didn't. Take Care and Be Safe.