Well-known member
Steel Soldiers Supporter
@Superthermal

are you replacing the float or do you have some sort of trick for draining it and re-sealing it?
Unfortunately I kicked my float with my foot against a ladder where I was checking it out and pinched in the side of it.You can see with just the tap of my foot it was all messed up. The lower crack is where it was originally split causing it to sink. The mashed spot is Where I bumped it and it split just the same.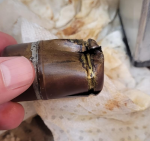 After looking at the hairline crack in it I could have fixed it up with my torch and some solder. But after putting the dent in it.. nope... it is only 7 bucks for a new one so I tossed it in with the other parts I was buying up. Very thin copper on this gizmo.
This part below is what I purchased. Seems every car manufacturer from the 60's and 70's used the exact same float. If it doesn't work... I will make it work, but it does fit all the dimensions I could find.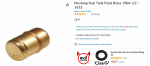 On another note my air cleaner showed up today! So happy about that.