Well-known member
Steel Soldiers Supporter
On the way home from an event last November, the engine in my truck developed a loud knock. I was roughly 20 miles from home when the knock became noticeable while I was driving and wearing hearing protection. The truck made it home that night and has been sidelined until now. My plan was to get through the holidays and a busy period at work and then get my truck to Jeepsinker for repairs. The truck left this afternoon and is in route as I type.
Jeepsinker's initial guess (which was just based on a couple phone conversations) is a bad rod bearing. I sent new rod bearings and rod bolts with the truck in case I'm that lucky and the damage is limited to a bad bearing. Planning for a worst case scenario, I also sent a rebuilt LDT 465 engine in a shipping container that I picked-up from GovLiquidation in January.
"Plan A" is to fix the existing engine if repairs can be done for a reasonable price. "Plan B" is an engine swap. I guess it is good to have options.
Here are a couple pictures I took last night before the truck left home: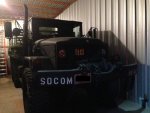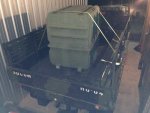 These pictures show how the engine and shipping container were loaded back in January: